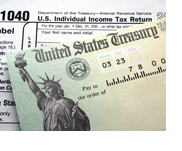 If you've got a refund coming your way, April is looking mighty fine despite this lingering winter weather. But with today's economy, being smart about that check is more important than ever. At TroopSwap and Troop ID, our sales force is composed of proud military spouses and veterans sourcing
military discounts
all around the country. We asked proud Navy Spouse, financial whiz, and TroopSwap's National Sales manager Caitlin Horn to share the best ways to use your refund to lasting effect.
First, we've got to ask, is a refund really a good thing? In a word, no. That fat check from Uncle Sam may seem like free money, but it's really
your
money that you've over-paid to the government during the past year. If you received more than $1,000 back, it may be a good time to revisit your W4 to see if you can adjust your withholding. While it's nice to get a check in April, what you're really doing is giving the government an interest-free loan all year long. A bank or government agency wouldn't give you an interest-free loan, so why should you extend that generous act to the IRS?
But let's say that this year, you do have a big tax refund coming your way. How should you spend the cash? Here are 5 smart ways to utilize your refund:
1. If You Have Debt, Pay it Down!
Paying down debt may not be the most exciting way to use your tax refund, but if you've got high-interest loans it's the smartest. With today's incredibly low return rates on investments, the most financially savvy thing you can do is to get debt-free—especially when it comes to credit cards, which often carry APRs as high as 15%. If you don't have credit card debt, look to your mortgage loan. Making an extra mortgage payment can help shorten your payback time and save you both principal and interest. By making just one additional payment on a 30 year mortgage each year, you can have the mortgage paid off in about 17 years and save thousands of dollars in interest over that time.
2. If You Don't Have Debt, Check Out Savings Plans
Members of the military have some great options for saving for retirement. Contribute your refund
Thrift Savings Plan (TSP),
a traditional 401(k), or IRA/Roth IRA. Make sure to check if to see if your employer provides 401 (k) matching for these kinds of accounts to boost your retirement funds. If you qualify for the
Savers Credit
, you can make a $2,000 IRA contribution (if filing jointly), get a $1,000 additional tax refund and save an additional $300 or so on your 2013 taxes. By contributing $2,000 to an IRA, you could receive $1,300 in tax refunds! Dollar-for-dollar, this is the most valuable financial move for those who qualify.
3. If You're Maxed Out on Saving, Invest...In Yourself!
Retirement accounts and TSP accounts have maximum amounts that you can contribute each year. So if you're all set with savings in 2013, turn your tax return into an investment in a sure-fire winner: you! Have you been wanting to take a class to expand your marketability? Now's the time to do it! Add to your education or job skills to take your career and earning potential to the next level. Sign up for a college or graduate class in your field. Attend an industry conference and get in some good networking. Even taking a non-work related class like painting or photography can expand your thinking and brighten your mood. Another way to invest in yourself is to focus on health. After all, your health is your greatest asset. Use your tax refund to invest in a gym or yoga studio membership, a personal trainer, or some great new workout gear from Under Armour (
at a 10% discount with Troop ID!
). Investing in yourself is sure to pay returns in happiness and well being, making 2013 your best year yet.
4. Invest in Your Kids
If you have children, help prepare for their future with a
529 college savings account
. You'll be able to use the money tax-free for college bills, and you could get a state income-tax deduction for your contribution.There are two types of 529 plans: pre-paid tuition plans and college savings plans. All fifty states and the District of Columbia sponsor at least one type of 529 plan. Pre-paid tuition plans allow college savers to purchase units or credits at participating colleges and universities for future tuition and, in some cases, room and board. Most prepaid tuition plans are sponsored by state governments and have residency requirements. College savings plans allow parents to establish an account for a student to cover eligible college expenses. An account holder may typically choose among several investment options, which the college savings plan invests on behalf of the account holder. Investment options often include stock mutual funds, bond mutual funds, and money market funds, as well as, age-based portfolios that automatically shift toward more conservative investments as the beneficiary gets closer to college age.
5. Plan a Splurge!
OK, you've paid down your credit card bills, invested in your retirement, and now you want to treat yourself to something special. Opt for splurges that will create memories with friends and families, not just things. While a
new purse
is always welcome, the memories you'll carry with you from a great vacation are a lot longer lasting. Check out
military discounts on getaways
at TroopSwap for some ideas to get you started.
Caitlin Horn
is a proud Navy Spouse who serves as the National Sales Manager for TroopSwap.com. Caitlin earned her B.S. in Accounting from the College of Charleston, and prior to joining TroopSwap, checked the books at Deloitte & Touche, LLP where she specialized in Audit and Enterprise Risk Services.
About
TroopSwap
and
Troop ID
: Founded by two Army Rangers, our team is dedicated to working with reputable, military-friendly businesses to bring special deals and everyday discounts to verified active service members, veterans, and their families. TroopSwap provides hand-selected daily deals and military discounts for businesses near you. Troop ID is the first technology platform that verifies military or veteran status online, enabling top brands to securely deliver benefits and discounts to the military community through e-commerce. Troop ID's Single Sign On allows members of the military community to access discounts, veteran skill training vouchers, and government benefits safely and securely online.